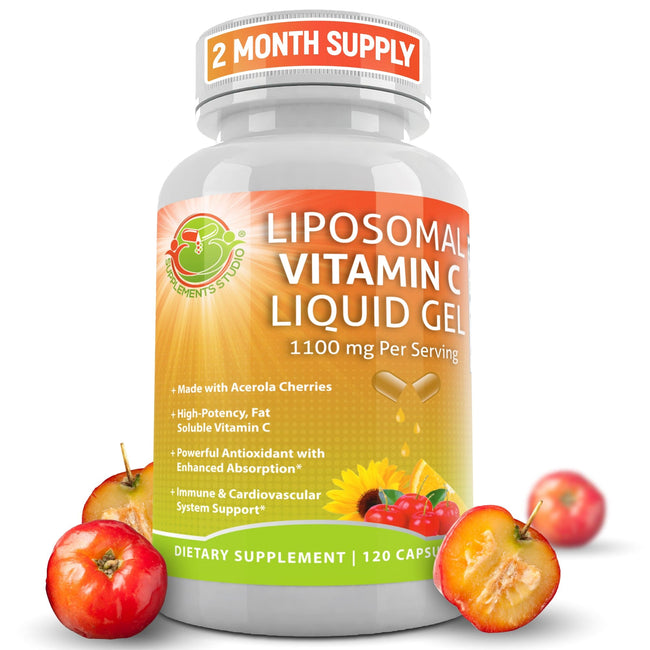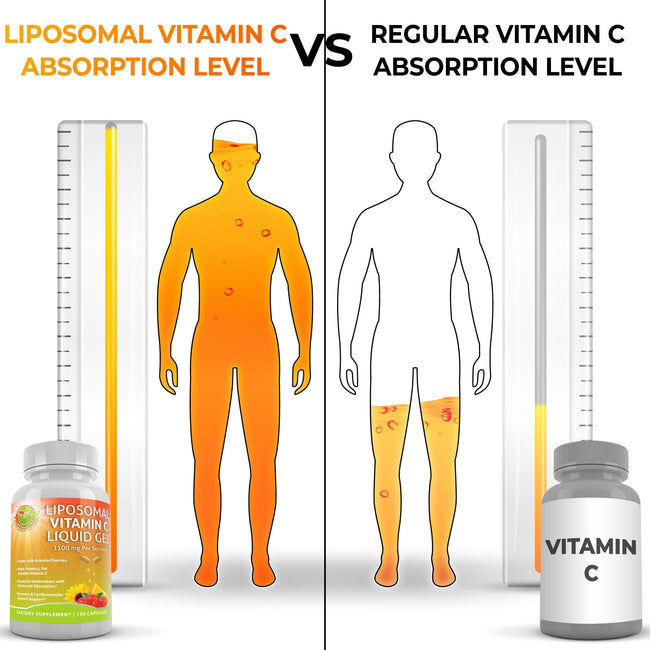 Liquid Liposomal Vitamin C is the most bioavailable form of vitamin C, and is a MUST have in everyone's daily regimen! Liposomal Vitamin C is a truly beneficial element to add to your everyday supplements routine, it gives your immune system a real boost, and it helps avoiding fat doctor bills!!!
⭐FINALLY! A REAL, HIGH POTENCY LIQUID LIPOSOMAL VITAMIN C THAT WORKS: Our powerful Liposomal Vitamin C Liquid Gel formula (1100mg per serving) is made with organic acerola cherries for an additional boost of organic whole food vitamin C. Crafted by our team of experts, our formula contains sunflower lecithin for enhanced bioavailability and absorption. Unlike many other liquid vitamin C supplements on the market, our liposomal liquid vitamin C capsules are free from alcohol, soy or sugar.
⭐OUR ADVANCED FORMULA PROVIDES AMAZING HEALTH BENEFITS: Our fat-soluble Vitamin C Liposomal Liquid Gel contains powerful antioxidant properties & boosts your immune system. Vitamin C supports cardiovascular function & heart health, brain & cognitive function, promotes blood circulation, and helps increase absorption of calcium & iron. Our advanced formula has anti-aging properties supporting bone density, decreasing muscle soreness, and promoting collagen production.
⭐YOU GET A MASSIVE 2 MONTH SUPPLY: Get the most value for your money with our two month supply of liquid Liposomal Vitamin C gel capsules! Each of our Liposomal C capsules consists of: enhanced absorption fat-soluble vitamin C gel which is encapsulated in Delayed Release Licaps, ensuring you get 100% absorption with each serving, and preventing gastrointestinal & stomach discomfort.
⭐TOP QUALITY INGREDIENTS: We believe in transparent, quality, no-nonsense ingredients. Our high dose vitamin C liposomal capsules are FREE from GMO, Alcohol, Preservatives, Soy Lecithin, Gelatin, Dairy, Sugar, Gluten, Shellfish, Nuts, Wheat, Stearates, Silicon Dioxide and Artificial Ingredients. Please note, the density variance of ingredients may cause separation of the liquid gel. This is completely normal and what you see is the Liposomal C gel in its most natural form.
⭐PROUDLY MADE IN THE USA: All our supplements are manufactured in the USA. We've established top quality control standards in our manufacturing facility. As a professional grade supplement company, all our supplements are formulated using only natural and high-grade raw ingredients, which are routinely tested for purity and quality. Made in a GMP certified facility in the USA. Third party tested.
Ingredients: 
Liposomal Vitamin C, Organic Acerola Cherries
Read More
immune system is stronger
I can confidently say that my immune system has been much stronger since I started taking this liposomal vitamin C
I'm pleased
I'm very pleased with this product, seems like really good quality
Very valuable formula - worth the money
This is not cheap but I think that you get what you pay for - and I love the high quality ingredients in this formula like the whole food and the liposomal form of vitamin C
better overall wellbeing
I feel like I have better energy and overall well-being thanks to these vitamins