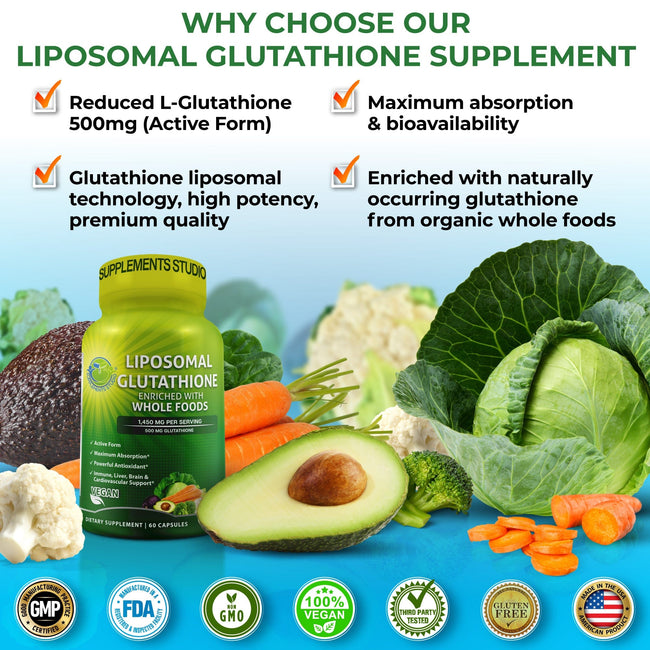 Liposomal Glutathione is the ultimate go-to for a highly potent antioxidant and detoxifier of the liver. Glutathione supports vital brain function by enhancing clarity and concentration, and it even helps promote better focus and long-term memories. It provides much needed immune system support, thus making it a great supplement for fighting off infections. By investing in this supplement you are investing in some of your  body's most crucial daily health functions, and improving your health with every capsule!
✔️THE MOST POWERFUL LIPOSOMAL GLUTATHIONE ENHANCED WITH WHOLE FOODS: Our liposomal glutathione supplement has an optimal serving of 500mg glutathione per serving. Our advance formula is further enhanced with an additional blend of 10 plant-based whole food sources that are rich in naturally occurring organic glutathione for an extra boost! Our formula is vegan, gluten free, all natural, and free from GMO, fillers, preservatives, or other artificial  ingredients.
✔️LIPOSOMAL GLUTATHIONE IS A MASTER ANTIOXIDANT: Glutathione is a powerful antioxidant and a powerful detoxifier that's naturally created in the body's cells. However, its natural levels in the body decrease as a result of aging, stress, and toxin exposure. Our fat-soluble glutathione liposomal supplement capsules provide super enhanced absorption and bioavailability. Boosting your body's glutathione levels may provide enhanced Immune & Cardiovascular System Support!
✔️ANTI-AGING AND SKIN REJUVENATING PROPERTIES: Glutathione is essential in helping fight free radicals, reducing oxidative stress and slowing down the aging process. Our l-glutathione 500mg formula has powerful antioxidant and enhanced anti-aging properties. It supports healthy skin, may improve skin complexion, pigmentation and help with skin brightening.
✔️HEALTHY LIVER AND BRAIN FUNCTION SUPPORT: Our high potency, maximum absorption, reduced glutathione 500mg is the best way to detoxify your liver! Our daily dose of liposomal glutathione pills may support your detox system and help it get rid of toxins that threaten your well-being. Glutathione is known to have powerful anti-inflammatory properties, supports optimal cell function, and may improve brain function, concentration, and energy!
✔️PROUDLY MADE IN THE USA: All of our supplements are manufactured in the USA. We've established top quality control standards in our manufacturing facility. As a professional grade supplements company, all our supplements are formulated using only natural, high-grade ingredients, which are routinely tested for purity and quality. Made in a GMP-certified facility in the USA. Third-party tested.
Ingredients: 
Glutathione, Organic Avocado, Organic Spinach, Organic Okra, Organic Asparagus, Organic Broccoli, Organic Cauliflower, Organic Cabbage, Organic Brussel Sprouts, Organic Carrot root, Organic Squash, Sunflower Lecithin.
Read More
amazing product
I've been taking this liposomal glutathione from Supplements Studio for 2+ years and I love the ingredients and effectiveness of this formula. Best glutathione supplement I've tried and will keep buying.
Need more time
I've been taking it for a little less than a month, need more time
Suplementero alimenticio importante.
Es organico, y muy importante para la salud.
Great
My wife just loves this product
Too early to tell
Anything to improve my liver function and improve inflammation, I'm willing to try